A real estate market analysis is a tool that assists us in gathering information to determine, for example, whether we should invest in a property or the rental potential of a city or district. In fact, it would be insane to purchase a property without having the necessary information.
Market research is the first step that any investor must take before entering the market. The goal is to ensure that the project is viable and fits into the existing market.
Not all real estate investors have the patience to conduct a thorough real estate market analysis. You must conduct research if you want your real estate business to stand out from the crowd. So, what exactly is a real estate market study?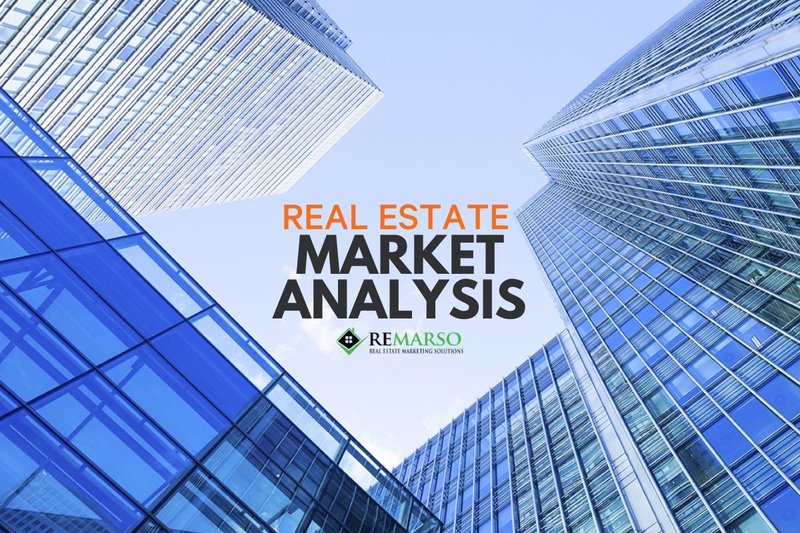 What precisely is a real estate market analysis?
A real estate market analysis is an examination of current market values for properties similar to the one you want to buy or sell. The information gathered through a survey assists the seller in determining a listing price and assists buyers in determining whether the asking price is too high, too low, or reasonable.
What is the purpose of a real estate market analysis?
There are several reasons for conducting this type of research, the most important of which is to have information that will allow you to invest and buy safely. Other factors include:
To determine whether you should invest in one city over another.
To determine which factors impede investment in specific locations.
To understand demographic aspects in order to forecast the evolution of the area in which you wish to invest.
To have information about investment projects in specific areas and to know if there will be a development that will increase the value of the properties in the future.
Knowing the market prices gives you the ability to always negotiate a lower price and avoid overpaying for a property.
Tips for a Successful Real Estate Market Survey
Before you begin gathering information, you must clearly define the market in which you intend to position yourself: the type of products or services offered, the type of market (individuals, businesses, governments, etc.), the target geographic area, and so on.
Property analysis: To conduct a property analysis is like conducting a real estate market analysis. The location and neighborhood, lot size, construction time, services and amenities, and so on should all be considered.
Examine the original price: Once you've completed the property analysis, look for the original listing online, if possible. This will give you a good idea of the home's overall condition. Examine the photos and descriptions for any changes, remodeling, or potential issues.
Verify property value estimates: Use online resources to determine the home's estimated market value. Because these are market value estimates, they may not be completely accurate, especially if the home has been modified. However, this is a good starting point for furthering your real estate market research.
Comparisons: Compare the property to others in the same area; factors such as size, price, and other factors will help you determine the value.
Determine the market value: Based on your research, you should have a price range for your property's value. Consider everything you've seen and analyzed, as well as how it will affect the value.
You have two options for conducting a study: do your own market research or hire someone.
Methods for carrying out a real estate market analysis
When conducting real estate market research, you must be structured and organized. To do so, divide your analysis into four categories: market, demand, supply, and environment, and then ask the right questions.
The goal is straightforward: to assess the market potential and validate the commercial viability of your project.
Step 1: Research the market and its evolution.
As a first step, it is critical to be well-informed about the global market. The goal is to gain a better understanding of the market volume, trends, and likely evolution.
Here's an example of a list of questions to ask when researching the market and its potential evolution:
What is the market's volume? Specifically, in terms of turnover, customers, and quantity sold?
What is the current state of the market?
What are its prospects for the future? A market may be expanding or contracting.
What are the current market trends?
What products or services are on the market?
Who are your direct and indirect rivals? What services do they provide? What are the similarities and differences between what the competition offers and your product/service offering?
What are your sales terms and conditions?
Who are my prospective suppliers, and what terms and conditions can they provide?
These questions will help you gain a better understanding of the market situation and the players involved.
Step 2: Studying the demand
The goal of studying demand is to get to know the market's customers and determine whether there is potential to be exploited. Here is an example of a list of questions to ask in a real estate market survey when considering demand:
In this market, how many customers are there? How is this number changing (increasing, decreasing, or remaining stable)?
What exactly are these real estate clients? Where can I find them?
What is the customer's consumption rate? How do they act?
What factors influence the consumer's decision? What is their financial situation? What are the critical factors that influence a purchase decision?
Step 3: Examine the offer
The offer analysis entails thoroughly researching what your competitors already provide in the market. Here is an example of a list of questions to consider when considering the offer:
Who are the market's competitors?
Which firms have the most market share?
What are the main competitors' sizes? Where are they, and how do they select their locations?
How long have they been in business, and what is their financial situation?
What criteria do some competitors use to outperform others?
A thorough examination of your competitors' offerings can assist you in identifying opportunities to prepare your future offerings and gain a competitive advantage.
A real estate market analysis will provide you with a better understanding of what works, the critical success criteria, and what has not worked.
Step 4: Environmental and Legal Research
An environmental study entails analyzing the factors that may have an impact on the market, such as applicable regulations, technological developments, or any other element that may have an impact.
Here is an example of a list of environmental questions to consider:
What innovations are having an impact on the market?
What is the market's governing regulatory framework?
Is there legislation specific to this market?
What are the trends in legislative evolution?
Are there any professional organizations or other market actors?
Step 5: The Data Collection Procedure
One of the most important steps in conducting real estate market research is data collection, which allows you to gather information that will help you determine if the project is viable and your investment is secure.
Conduct real estate surveys and begin gathering the information you need to secure your real estate investment.
Step 6: Presenting the Results
The presentation of a report containing the obtained information will allow investors to conduct an analysis and determine the best strategies to secure the investment.
Survey software enables you to visualize the collected data in real time, allowing you to pre-analyze the information and prepare a report highlighting what is relevant so that stakeholders can visualize it and make better decisions.
Start standing out in the real estate industry by using data to make the right decisions!
Source: Question Pro