You're working hard to drive traffic to your website, but for some reason, your inbound leads aren't converting. Whether you're looking for home buyers or sellers, many of the leads generated aren't qualified. Long static forms may actually suffocate your lead generation efforts. You can convert visitors in a simple way while also improving the quality of your property leads.
How can I get more estate agent leads?
In this estate agent lead generation guide, we uncover the best tools for effectively converting your property leads and how to optimize them. Here are our eight suggestions:
Use live chat to convert
Automate with chatbots
Qualify with multi step forms
Target your visitors
Chat on property portals
Engage on social media
Ensure efficient follow-up
Try A/B testing
1. Use live chat to convert
Live chat is a low-barrier channel that allows your customers to easily communicate with your company. It also allows your sales agents to communicate with potential customers on their own initiative. Live chat can cut the number of inquiries from less effective channels by more than 26%.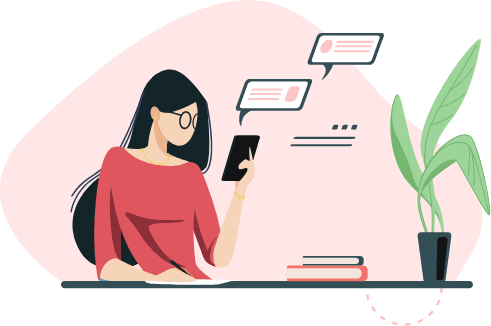 The following are the primary advantages of using live chat to generate real estate leads:
Reach out to potential buyers and sellers on a regular basis.
Increase the conversion rate of visitors to valuation bookings.
Improve your customer satisfaction by providing a better online customer experience.
Reduce costs while increasing team efficiency.
Provide a low threshold
2. Chatbots can help you automate lead generation.
Your agents may not always be available to prospects and clients throughout the day. Agents have a lot on their plates, from meetings to organizing viewings.
Chatbots help to automate inbound lead generation and are an excellent way to support your team when they are overburdened.
The best part is that chatbots are available around the clock, 365 days a year, 24 hours a day, 7 days a week. This means your client queries are addressed outside of operational hours as well.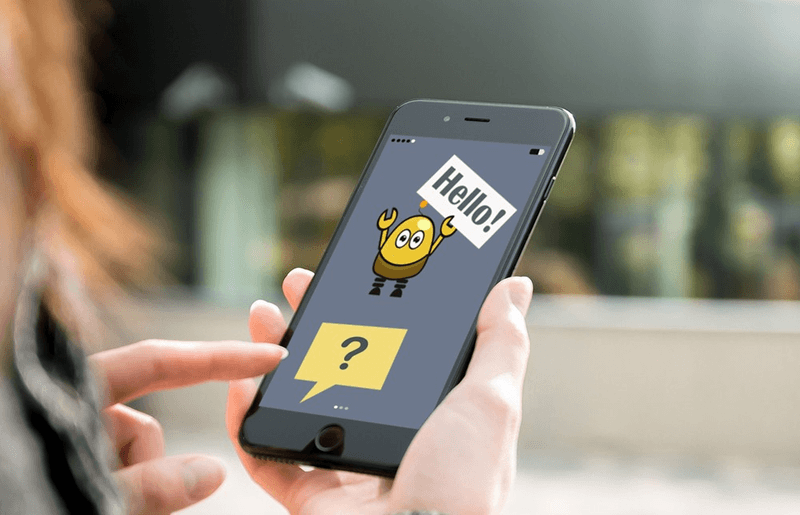 Chatbots not only convert browsing visitors into viewings or valuations, but they also direct visitors to the appropriate content on your website, improving your overall online customer experience.
The primary advantage of using chatbots for estate agent lead generation is:
Chatbots qualify buyer and seller leads
Chatbots generate leads and support your clients 24/7
Chatbots directly book property viewings for agents
Chatbots help increase engagement and interaction outside of office hours
How can chatbots be used to qualify buyer and seller leads?
Chatbots not only assist you outside of office hours, but they also improve the quality of your lead generation by assisting you in gathering more information on leads.
Set up your real estate chatbot with qualifying questions specific to your agency's sales process to qualify leads.
Chatbots outperform static lead capture forms by 4x.
A chatbot can start a conversation with a prospect by asking:
Whether they want to sell, buy, or rent a home, they can find it here.
What their house's price range is
When they intend to buy, sell, or rent
What is their ideal location?
Based on their responses, the chatbot can collect their contact information and pass the qualified lead along to a sales agent.
You can qualify your leads before transferring them to a live chat agent using an automated chatbot. This means your sales team spends less time chatting to irrelevant leads and more time on qualified sales leads.
Your chatbot can also assist you in routing leads to the appropriate real estate branch. Existing customers, tenants, and landlords can be routed to your support team, whereas buyers and sellers are routed directly to sales.
3. Multi-step forms can help you qualify sellers' leads.
Multi-step forms convert at an 87 percent higher rate. Form fields should be broken down into smaller chunks to make them easier to digest and to make them look more organized. It's a simple way to combat form fatigue and boost conversions for both buyers and sellers.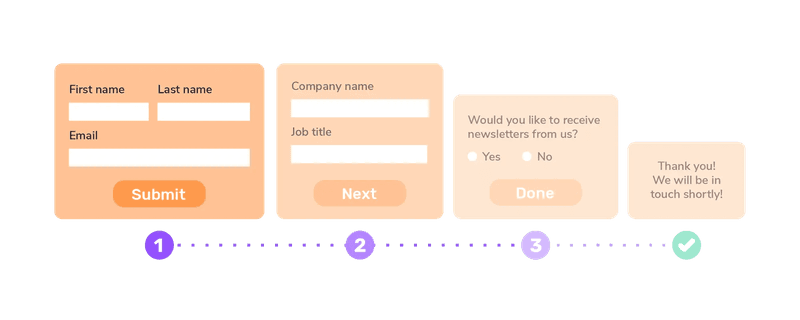 When should you use multi-step forms to generate estate agent leads?
Spreading information across multiple views can improve your lead quality and create a more positive customer experience. When you want to, use multistep forms:
Obtain a large amount of information and data in order to qualify leads.
Qualify leads without frightening website visitors and reduce your cost-per-conversion rate.
Only convert visitors who are genuinely interested in selling or purchasing a home.
4. Identify your website's visitors
Eighty percent of customers are more likely to do business with a company that provides personalized encounters. This is no different when it comes to real estate!
Personalizing your prospective clients' online experience will propel your inbound lead generation to new heights. Tracking your visitor's behavior and using that data to segment your clients will allow you to activate your lead generation tools at the right time with the right message.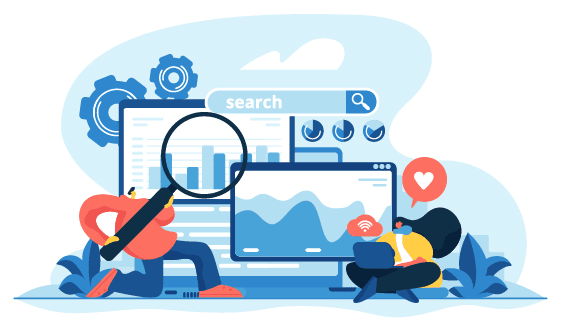 How can you target home seller and buyer leads more effectively?
Here are some examples of targeted interactions to get you started:
Activate your live chat during business hours and your bot outside of business hours.
If you're using Google Ads to drive traffic to your website and convert more valuation bookings, why not trigger a bot to book a valuation for visitors who come from your campaigns?
Target returning visitors who have previously visited your site by triggering a proactive chat message such as, "Welcome back, Are you looking to buy a home?"
5. Chat on property portals
When looking for a new home, property buyers' first port of call is usually a portal. Portals are used by 77 percent of home buyers to conduct property searches.
So imagine if your sales agents could interact with potential buyers directly while they're searching for a new home on a portal.
You can do the following by including multistep forms, live chat, or chatbots on your property portal listing pages:
Collect lead data in real-time outside your website
Provide support for buyers interested in your listings
Increase your total number of incoming leads
Provide a new way for potential buyers to reach out to your agency outside of your own domain
6. Engage in social media
The average adult in the United Kingdom spends 109 minutes per day on social media.
As a result, it's no surprise that social media is quickly becoming a must-have tool for both house hunters and estate agents. If used correctly, it can be an excellent channel for marketing your property listings.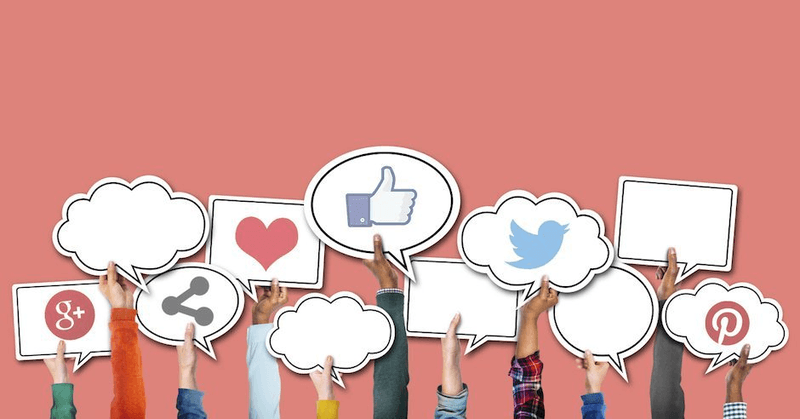 How to Convert Estate Agent Leads Using Social Media:
Promoting your listings on the Facebook Marketplace This allows real estate agents to get their property listings in front of interested buyers.
To drive traffic to your website, create sponsored listings on social media. Then, direct your live chat to visitors from that campaign with a personalized message.
Allow visitors to contact you on social media through in-app messaging.
7. Ensure effective follow-up.
The speed with which you respond to leads and the efficiency with which you follow up is critical to the success of your lead generation efforts. This is simply not optimized with traditional lead generation forms.
When a new prospect fills out a form on a listing page, it can take hours or even a day for sales to contact that prospect, usually via email or phone. And by the time your agents get to the front, it may be too late!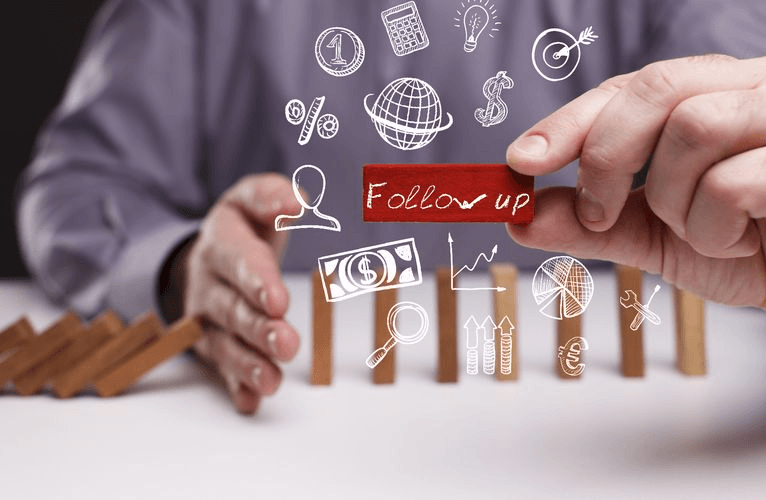 In order to see a return on your online leads, you must immediately follow up with your high-quality leads.
That is why it is critical to establish effective follow-up processes.
Lead follow-up within 1 min = 391% higher lead conversions
The following is how estate agent lead follow-up works:
Create tasks
Create tasks for agents when leads are generated outside of business hours via forms or your chatbot.
Assign leads
Assign leads to the appropriate agents instantly, and use workflows to route lead to the appropriate branch.
Send notifications
Send real-time mobile notifications to agents who have been assigned to a lead. Using mobile ensures that leads are followed up on in real-time even when your team is not in the office.
8. A/B testing is an option.
A/B testing can help you figure out what resonates the most with your potential clients.
A/B testing assists you in optimizing your lead generation and determining what resonates best with your prospective clients.
What should you test to improve your estate agent lead generation?
Here are some ideas for what to test when optimizing your lead generation:
Different lead generation tools: Live chat vs. Chatbot
Automated messages: "Hi, how can I assist you?" vs. "Hi, would you like to book a valuation?"
Calls-To-Action: "Book a Valuation" vs "Get Your Free Valuation"
Different pages: Does your Homepage convert more bookings vs your property listing pages?
Switching from static forms to interactive lead generation tools will not only improve customer experience and engagement but will also significantly increase conversion rates!
Source: Giosg