While the demand for properties keeps increasing, it does not necessarily mean it's easy to sell your real estate listings. In fact, most real estate agents find it difficult to gain leads as their property ads get lost or drown in a sea of competitors. Oftentimes, they find their ads sitting on the market for months or years without getting noticed by potential buyers.
How can you make your property ads standout? Aside from availing REMARSO's marketing solutions, we'll teach you how to write killer real estate listings ads in this post!
Real Estate Listings Hack: Start With a Compelling Question
According to real estate gurus, one way of capturing your potential leads' interest is by leading them with an interesting question about their ideal property. These questions stroke their interest, causing them to pause for a while and think. And while you're at it, make sure to offer a solution or feature so that they'll go back and make a transaction with you.
Here, we laid out some of the most popular questions that have worked in real estate listings ads:
Still looking for a perfect home with [feature]? – you can insert features your client wish to have. Example of this is a cozy pool, a balcony, an overlooking view, etc. If you're not using a feature, using a specific city or neighborhood also works.
Want to purchase your dream home in less than [timeframe]? – This question especially works with couples or even professionals who have a targeted goal in mind to purchase properties.
Save thousands of [specify amount] when you buy this home! – This entices customers to look for properties that suit their budget preference.
Keep it Concise and Short
As Facebook and other social media make an effort to reduce their "ad load" time, you need to create short yet captivating ads to grab your customer's attention. According to experts, the optimal headline length for your ads is five words. However, you can experiment which works best for your potential leads. Also, make sure to add promising features that add more value to your listing.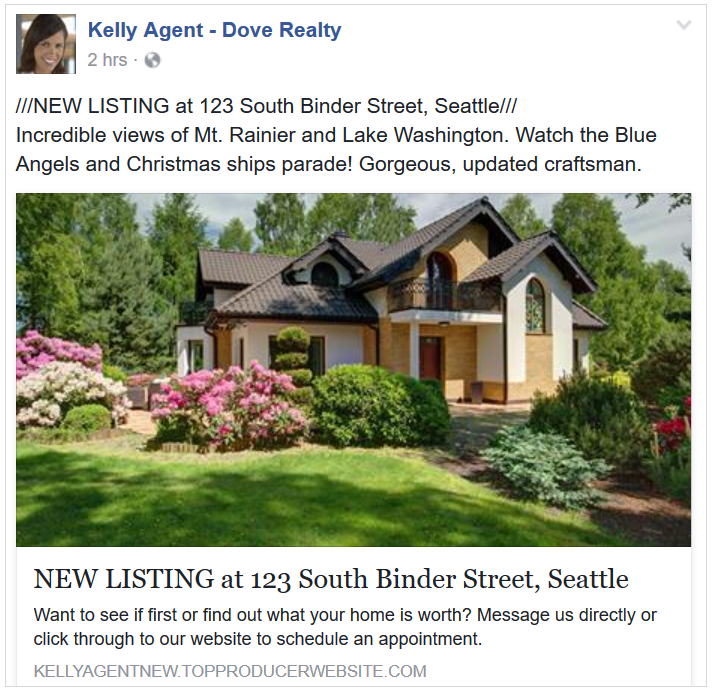 Based on the example above, the author emphasizes the views of Mt. Rainier and Lake Washington that is unique to her listing. This promising feature makes it valuable information to her potential leads. You can also add minimal humor to make your ads more sweet and personal.
Optimize Your Ad to Become SEO-Friendly
While it's important to write compelling ads that target your audience, most real-estate agents forget they also need to write for another niche. To get your ads through the top, you need to optimize it to be recognized by bots. You can achieve this by incorporating SEO to your ads. You can use the following tips to make your ads SEO friendly:
Use Google Analytics and Ahref to find the best keywords in your niche – it's best to use keywords with less than 5,000 or 6,000 searches per month for less competition.
Use keywords in your header's listing.
Sprinkle the keywords throughout your blogs or website.
Incorporate Professional and Stunning Visuals
Now that you know what points to include in writing a killer real estate listings ads, it's important to consider the image to use next. It's best to use stunning professional images that show different angles of your property listings. You can use the following tools for your property ads:
Remarso's 360 Virtual Tour – It helps you create a 360 virtual tour in your property as well as the neighborhood to have an interactive ad. You can embed it on your website, social media networks, or in email.
Facebook's 360 Video and images – take advantage of this feature if you want to place your ads on Facebook.
Facebook Slideshows – if you're tight on budget, you can use Facebook slideshows to showcase your stunning images.