We already know the dos and don'ts in writing real estate listings. However, have you ever consider incorporating virtual staging to upgrade how you promote your properties? According to experts, virtual staging is becoming a trend in real estate agents across the globe. Virtual staging helps in transforming your empty or outdated home into a lavish simulation.
Not only that, but it also helps you to promote your properties worldwide. Your clients don't have to meet you personally or see the property in person to make a transaction. The real estate agents claim this innovative method helps entice their buyers into purchasing their properties. Thus, resulting in a dramatic increase in their sales. How can you follow suit?
Here's how virtual staging can help in boosting your real estate listings and sales.
Gain a Competitive Advantage
Most real estate agents strive to sell their properties, so they're always on the lookout to outrank their competitors. Virtual staging helps you achieve this strategy by making your real estate listings stand out. You can render beautiful imagery or video to show off your property's different angles and stunning features through virtual staging. Not only it helps in capturing your client's attention, but the increase in views also increases your chances of selling the property faster.
Highlights Your Property's Selling Points
Most realtors struggle in selling their real estate listings is because their property is often vacant. It means their properties are devoid of furniture, appliances, etc. Not to mention it turns off clients when they see unfurnished rooms. However, you don't have to worry about these when you incorporate virtual staging.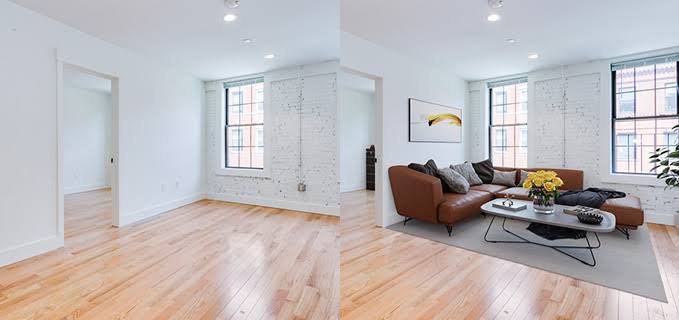 You can render 3d images of the furniture, stunning decorations, as well as photo-realistic visual materials to make your property homey and lively. You can also use virtual staging to highlight the stunning features of your property. In this way, it'll entice your customers into booking a viewing or buying the property from you.
No Physical Staging Service Needed
As we stated before, virtual staging helps in making your properties more lively, desirable, and enticing to the customers. Not only you get to convince your buyers, but you also get to save more money in the process.
You don't need to buy more furniture, beautiful ornaments, proper lightings, and photo equipment to stage your property physically. You get to save more money and spend it on more important investments or areas in your business.
It Saves More Time in the Process
Physical staging involves finding a stager, choosing furniture, buying or renting equipment, and developing a design process before conducting a photoshoot routine. Not only it drains your investment, but it also wastes both you and your buyer's time. You should be closing deals now with your clients instead of having a physical staging.
Moreover, your buyer is likely looking or buying other property options while you're still making your real estate listings. Virtual staging helps in eliminating both of these problems since you can render your properties in a snap and post it online for sale in just a few minutes.
Conclusion
So if you're thinking it's unreasonable to spend a few hundreds of dollars to invest in virtual staging, we suggest you think again! Our 360 virtual tour will help you in setting up and presenting your real estate listings with powerful imagery and interactive media. These stunning pictures and features will surely help in selling your properties faster and boosting your sales lead in no time! So what are you waiting for? Start investing in virtual staging now!