Handling phone calls is one of the bloodlines in any real estate business. It's the medium to connect and reach out to your potential buyers or partners. It's where you get to schedule your appointments for possible meetings and onsite inspection of a property. Wondering what's the best VOIP software to handle your calling needs! Here's why you should integrate CloudTalk and reap its stunning benefits in your real estate business.
Automatic Outbound Calls
Most real estate agents spend ample time, money, and effort harvesting a large customer database and calling them one by one for potential leads. What's worse, you're not even sure every single of them will buy your property. In fact, most real estate agents end up with no leads at all. Is there a remedy to this problem?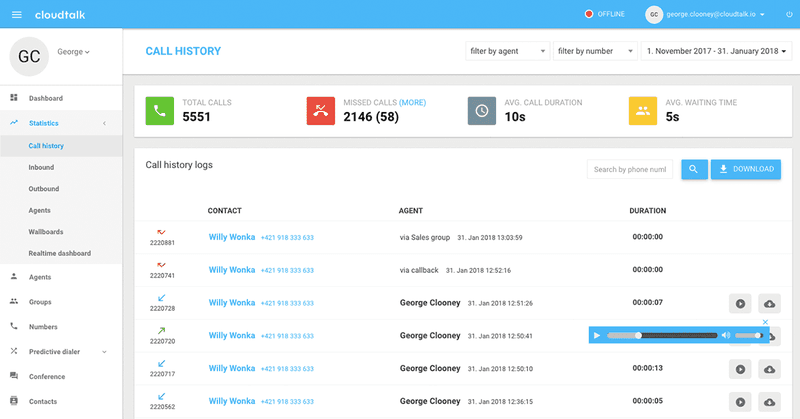 The customers get connected to an Interactive Voice Response (IVR) initially. Then, when the customer is interested in making a deal with you, the software will then implement Automatic Call Distribution (ACD) and connect the customer to an actual customer agent.
Hence, you'll save more time since you only get to talk with actual lead customers. This leads to increasing your lead generation and boosting your sales in the process.
Automatic Call Distribution
Likewise, CloudTalk isn't only beneficial in making outbound calls to capture leads and sales. Thanks to its Automatic Call Distribution feature, you can automatically distribute the type of calls in your team. The IVR will give a rundown of all your departments to your customers. Your customer then gets to choose a number based on their queries.
The ACD then will forward the call to your designated agent. Not only it saves your business and your customers more time, but you'll also be improving your customer service! Whether your customer is asking for listings, real estate queries, loans, mortgages, etc, you got them covered!
Easy Use and Integration
CloudTalk also features a simple, user-interactive application design that is accessible through web or mobile platforms. This means the software is easy to use and manage, avoiding confusion to your team. It makes their life easier since it offers a convenient system of filtering, monitoring, and tracking outcalls for you. What's more? You can also integrate it to your website (so that they may call you for queries directly), Real Estate CRM, among other apps out there.
Flexibility and Mobility
Thanks to CloudTalk, you don't have to worry about setting up multiple landline systems just to cater to your international customers. Cloudtalk will just give you one international virtual phone number that can be used to contact your clients anywhere in the world. At the same time, you'll be establishing your local presence strongly in your community too. Wherever you are, you'll have an easy time moving in and out looking out for properties while staying connected to your potential customers.
Scalability and Cost-Saving Software
Due to its tons of benefits, it's no doubt your real estate business is saving more money in the long run. CloudTalk sees to it that their VOIP software offers the highest quality of call management within your budget without compromising its services. What's more? You can expand or extend your team as you deem fit. CloudTalk makes sure the software is scalable to cater to your team's needs.
No Downtime Calls
Most of all, CloudTalk doesn't have downtime calls. This means your real estate business will be up and running for 24/7; staying all connected with your customers. Having this advantage will surely give your real estate business more edge against your competitors!
Check all CloudTalk features
Interested to reap these stunning features? Contact our real estate marketing team today and we'll help you set up this amazing integration!