The year 2020 is an enduring year, especially in the real estate industry. Due to COVID-19, you're unable to meet with your clients for an onsite visit. This leads to losing potential leads and sales in the process. How can you keep your business running during this crisis? Here are our top real estate software for agents to cope up with COVID-19.
These state of the art tools will keep your business up and running in times of crisis. Not only that, but it'll also help in boosting your potential leads and sales.
Best Real Estate Software for Agents
Real Estate CRM Software
Having a hard time finding leads, call management, and automating invoice, appointment setting, etc? Save the hassle of doing these administrative tasks by investing in real estate software for agents. The software allows you to manage all your leads, contacts, and listings under one platform. You can collaborate with your team by assigning records and set roles & permissions depending on the user's missions.
This helps you save more time in closing leads with integrated sales and marketing features. It's also easier to delegate your tasks among your team members for an efficient workflow. Since it''s hosted by the cloud, you and your team can work anywhere and anytime you want. Your contacts, listings, and deals are in your pockets.
Have a look at the promising RealEstateCRM.io , it's packed with all the features agencies need to operate efficiently, and their free plan is very generous.
Real Estate Software For Agents: Virtual Tour
Can't meet with your clients to conduct site inspection due to COVID-19? No problem! Thanks to virtual tour software, you can now conduct a virtual tour of your properties. You can take stunning images of all your properties and upload them to a virtual tour real estate software for agents. In just a few minutes, you can get a 360 VR tour!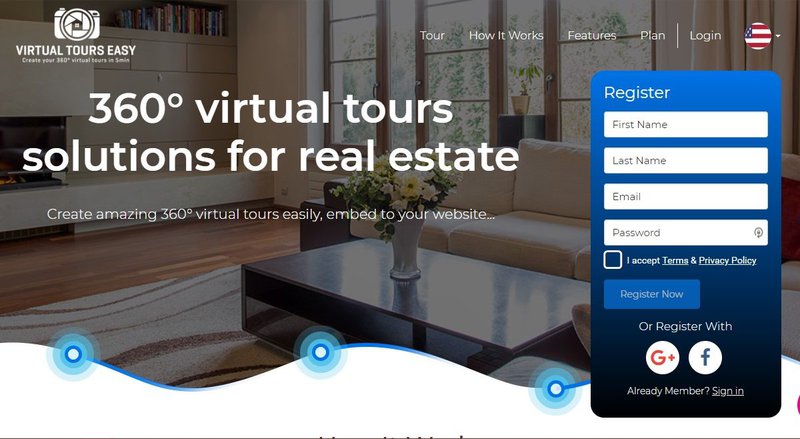 You can publish it on your website or promote it on your social media channels. Virtual tours are great because it enables your customers to browse and tour your properties anytime and anywhere. Not only you get to increase your sales, but you and your customers are safe in this crisis too!
Answer your clients 24/7 with AI Chatbots
What better way to build excellent customer service than to be available to address their concerns 24/7? Not only that, but you should provide a platform that'll make it easier for them to reach you. You can achieve this by settings up a chatbot and integrating with your website and all your communication channels as Facebook messenger, telegram…
You can set up chatbots to engage with your customers as they addressed the most commonly-asked questions. This will help you save more time without leaving your customers hanging. If your customer really wants to talk with you for specific concerns, you or your team can take over anytime by using a live chat.
Call virtually from anywhere and keep tracksSetup a virtual phone system
Operate your call from the cloud, can be very handy. You can assign a unique phone number to any of your agents, records call, track performance. With some configuration, you can totally run a virtual call center, with all metrics integration directly into your real estate CRM software. Build your cloud telephone system now through CloudTalk.
Video Call for remote meetings!
Not only it helps in setting up teleconferences for your team, but it can also be used to set up video calls with your customers, and even webinars.
If you are using google suite, "Google Meet" offers a good solution.
An alternative exists such as ZOOM, which is more and more popular recently.
Contact our professional agents now to take advantage of these state of the art real estate solutions!