Now that you know how to improve your real estate marketing, you must be wondering what to do next. How can you improve your listings and make sure you excel over your competitors? One way of doing that is by uploading a stunning image. Visual media catches customers' attention quicker. And if you're lucky, it will leave a long-lasting impression on them. It's recommended you invest in the best real estate software for photographers.
The Best Real Estate Software for Photographers
In order to captivate your customer's attention, the real estate experts recommend you should invest more in images. You can use these stunning images for your real estate listings or virtual tour. If you're struggling to create stunning images, then you should check out the best real estate software for photographers.
PicMonkey
PicMonkey hails as the best real estate software for photographers. Its basic license starts at $7.99/month. It features basic filters, drag, and drops touch-up tools for easy editing. You can edit the images easily like balancing colors, hue, saturation, shadows, etc. In just a few clicks, you can create a professional real estate image even if you don't have prior knowledge in photo editing.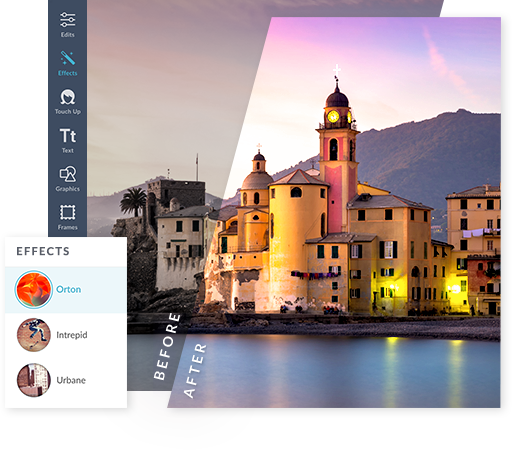 What makes this software great is that it's accessible through multiple browsers and platforms. You can also have access to unlimited storage and priority support at $12.99/month. If you opted for a free trial, you can try the software for 7 days. There's also a team plan for $33.99/month and a 25% discount for annual payments.
Photolemur
If you don't have time to edit individual property photos, then Photolemur is the best real estate software for photographers. The platform costs $35 compared to PicMonkey. However, its biggest asset is the batch editing. It means you can apply filters to multiple real estate images at the same time.
It makes things easier for you to edit thousands of images for your real estate listings. Moreover, it lets you save more time in the long run. What's more? The payment is one-time. You can also download the software to edit your images without connecting to the internet.
Pixlr
If you're on a tight budget and need free professional real estate software for photographers, then Pixlr is your choice! PIXLR is a free real estate software that is accessible in websites, apps, and smartphone devices. You can apply filters and professional editing effects easily. Its interface is similar to Photoshop, making it easier for photographers to navigate the platform.
Meanwhile, its cropping abilities are to die for! It's already loaded with layout designs and preloaded sizes for Facebook, Linkedin, and Pinterest. If you want to access Pixlr's stock images, templates, premium fonts, and remove ads, you can avail of the upgrade. It's only $5/month.
Pixbie
If you prefer outsourcing and have someone transform your images professionally, then Pixbie is the right one for you. Pixbie is an outsourcing real estate software for photographers. You can buy credits on Pixbie for $1. Basic edit packages include tone, brightness, or contrast for only $3. Item removal will cost you 10 credits.
Meanwhile, the day-to-dusk service costs 30 credits. If you want to edit your floor plan, it costs 35 credits. The good thing though is that you get 30 free credits for registering a new account. So you can test Pixbie first before committing to more outsource jobs.
BoxBrownie
If you're using 360-degree images to create a virtual tour listing, then BoxBrownie is the best real estate software for photographers. You can fix your images' lighting, clutter, and color for $4 per image. Your free account allows you to edit three images for enhancements to test their platform before charging their clients.
Check out our real estate software to upgrade your real estate marketing campaigns now!